Supreme

The perfect scooter for the person on the go!! This scooter is truly one of a kind. It is light weight and foldable making it the perfect scooter to transport in your vehicle trunk or back seat with no need for an electric lift. Despite its compact size, the Mini Traveler is a rear wheel drive scooter and has a 200 lb. weight capacity and weighs only 53 lbs. with batteries

The Supreme batteries are in a carry bag and
are easily removed from the Supreme. The batteries are
removable from the DLX model but is a bit more difficult to do.
Each battery weighs just 5 lbs.

This scooter is perfectly suited for in the home or for the well traveled person. The sealed gel cell batteries are approved for airline travel, bus travel and ship travel! Its as easy to transport as a rolling suit case and in the home, it maneuvers like no other scooter because of its extremely narrow base and tight turning radius.
Features: DLX & Supreme


1 Year Warranty
Total weight w/ basket & batteries:
DLX -54 lbs.
Supreme - 56 lbs.
Folds for easy transportation
Up to 10 miles per charge
7" Foam Filled Tires for a
comfortable, smooth ride
Basket included (3 lbs)
Anti-Tip Wheels
Climbs up to a 12 degree incline
Variable Speed Control
Dual 12 volt Direct Drive Motors

Mostly Indoor and some outdoor
hard surface use
Rear Axle width:
Adjusts from 17.5" to 21.5" on DLX
Fixed at 21.5" on the Supreme
Luggage type pull handle
Contoured Seat on DLX model
Contoured Seat w/ armrest on
Supreme model ONLY (not on DLX)
Angle Adjustable Tiller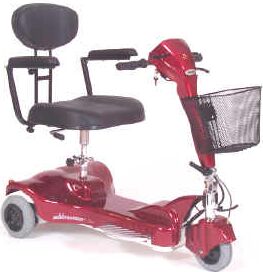 Mini Taveler Supreme with Deluxe Arm Rest Seat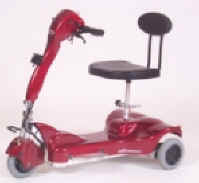 Mini Taveler Supreme with Standard Seat
Specifications