SHAMPOO-AIDE™ SHAMPOO TRAY

Because Hair Care Shouldn't be a Pain in the Neck.
The Shampoo-Aide™ Shampoo Tray rests comfortably on the shoulders allowing you to shampoo in an upright seated position. No strain or discomfort is placed on the neck by leaning back over a sink. Raised edges along the outside of the tray channel water into the sink to keep the floor dry.
The Shampoo-AideŽ folds in half for compact storage and easy transport. It is height adjustable, so it can be used on any size person and it fits most kitchen, bathroom, and laundry room sinks or shampoo bowls. For extra sink depth a convenient wire extender is available.
EXTRA WIDE TALL-ETTEŽ ELEVATED TOILET SEAT
Elevated Toilet Seat with Madda-Comfort armrests, slip-in LOK-IN-ELŽ bracket and floor legs
U.S. Patents 4,031,575 and 5,027,445 and covered by patents in Australia, Benelux, Canada, France, Germany, Japan, Sweden and The United Kingdom
Features contoured, soft foam rubber arm rests that are designed to assist the user in sitting down or rising from the seat. Ideal for those who need extra assistance because of significant lower extremity weakness or poor balance. Legs are height-adjustable. It adds 4" (10 cm) to the bowl height and eliminates the need for a commode or added toilet seat frame. Measures 22 1/2" (57 cm) wide. Shipping weight is 9 lb. (4.1 kg).
SINGLE ABLERISE™ BED RAIL

Prevents Falls
Bed rail with a roomy pocket assists getting in and out of bed and helps to prevents falls while providing a convenient storage area for keeping personal items within arms reach. Features a comfortable to grasp handle that can be used for repositioning and turning in bed. Handle is non-metal to eliminate the static shock that can occur with metal bed rails. Single AbleRise™ fits twin, full, and queen size beds. Slides between the mattress and spring box for easy installation. A strip of hook and loop attached to the end can be slipped around the opposite side of the bed for additional stability.
Also available are the Double AbleRise™ and the AbleRise™ Rail. The double version permits installation on both sides of the bed. The Rail version provides more security for people worried about falling out of bed.\
Bedrail Organizer

The Clear Advantage
This is an absolute must for anyone who is bedridden. Made of clear, see-through, plexiglass, the Bedrail Organizer conveniently hangs over any bed rail or tubular frame and keeps essentials like eyeglasses, pills, remote controls, and books close at hand and within sight.
Can also be placed over the drawers of dressers or nightstands. Saves steps for nurses and caregivers and provides comfort to the patient who no longer has to worry about items falling out of bed and out of reach.
Out of sight.. .out of mind. Within sight.. peace of mind.
\
INFLATABLE SHAMPOO TRAY

Makes hair care available to a person in bed
This shampoo tray makes hair care available to a person in bed. The tray fits into the space normally occupied by a pillow. Made of white heat-sealed plastic, the tray is inflated by mouth to form a semi-circular ring with a flat side for neck support. A large drain tube is located at the side for easy drainage into a pail. Takes less space. No re-positioning necessary. Developed by Yvonne Conway.
BLANKET LIFT BAR

Take a load off your feet
Keep the weight of covers off your feet without sacrificing warmth. The Blanket Lift Bar is made of plastic-coated steel. It creates a free space of about 30"x16"x12" (76x41x30 cm). One side slips under the mattress and the other side supports the blanket. Dimensions are 16"x12"x16" (41x30x41 cm) high.
ROLLING SHOWER CHAISE/POSITIONING CHAIR
Finally, a pediatric shower chair that's comfortable, convenient, and safe. The Rolling Shower Chaise has an aluminum carriage with casters to make transporting children into and out of the shower simple and safe. Brakes on the back casters keep the seat stationary and an extended front bumper bar safeguards the feet. All edges are children friendly rounded and smooth.
Available in lavender and turquoise, the chaise has adjustable straps to accommodate different sized children, a four position headrest that adjusts to various heights and securely maintains head position, a holder for a hand-shower, and a soap rest.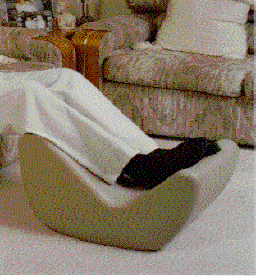 TUFFET™ LEG AND FOOT REST
The versatile, lightweight 2-position TUFFET™ LEG AND FOOT REST is fully adjustable in shape and softness to accommodate to the users level of comfort.
The unique design offers 2 resting positions - as a standard, firm foot stool or as an inverted, fully adjustable leg rest configuration. In the standard position, the TUFFET™ LEG AND FOOT REST can be used from either the sitting location as a foot stool or from the reclining location to raise the legs. In the inverted position, the TUFFET can be rocked back and forth to achieve the most comfortable support from the sitting place.
By elevating the feet as in the standard TUFFET™ position, venous return is improved and the supply of oxygenated blood to the lower limbs is increased. This may help reduce swelling and improve the condition of the skin and leg muscles. In the inverted TUFFET™ position the feet are fully supported with the knees slightly bent which may alleviate back discomfort.
The surface is constructed of a "soft touch", durable plastic that can be adjusted for firmness by releasing air from a recessed air valve. The TUFFET™ LEG AND FOOT REST is extremely light weight and portable with a recessed handle for transport. The "taupe" color is complementary to any decor and is easily cleaned with a damp cloth. It weighs 6 1/2 lbs. and measures 20"xl5"xl5" high.
Wheelchair Lap Top Desk

Transforms a wheelchair into a mobile workstation, bringing the convenience of the old-fashioned school desk to the wheelchair user. Roomy storage beneath the lid for lap top computers, business files, and personal items. Durable plastic clip on the inside of the lid holds books and newspapers open. Adjustable lid tilts forward for reading and writing; lies flat for lap top use and other activities. Tray top recesses securely hold paper clips, cups, cell phones, pens, etc.

Made of lightweight,polyethylene, it weighs only 7 lbs. and measures 24 wide x 22 x 3 ˝" deep. Fits 16-20" standard arm style wheelchairs, full or desk length arms. Hook and loop straps steady and secure the tray to the wheelchair.
HOLE-IN-ONE BUTTON LOOP

Wide Slot

Tight Grip
The Hole-In-One plastic handle with its wide slot assures a tight grip since it can accomodate four fingers. It is adaptable to other grips as well, such as full encircling grip or thumb through the slot. The button loop is a great help in manipulating small buttons with one hand by slipping it over the button and pulling it through the button hole. The button loop folds back on the handle when not in use. The handle is 5" long (127 mm) with a string loop at the end. The button loop is 4-1/2" (108 mm).
Extra Long Shoe Horns
Shoe Horn Selection is a Notch Above the Rest
Extra long plastic coated steel shoe horns measuring 30" in length take the grunt work out of putting on and taking off shoes. No bending is required. These distinctive shoehorns come in two different styles. One comes with a soft plastic sleeve on the handle to assure a more secure grip; the other model has a hang-up hole. Both styles are equipped with a feature that is unique to AblewareŽ shoe horns only - a notch at the end of the shoe horn for removing socks or shoes!
If shorter is what you want, each style is available in a 23 1/2" length. Or, shorter yet is our 18 3/4" ergonomic plastic shoe horn that features a hang-up hole on the handle.
ECONOMY REACHER
Requires very little hand strength
The lightest of our reachers extends reach by 23" (58 cm). The jaw is activated by a spring-loaded trigger that requires very little hand strength. The large, easy-to-grip plastic handle has a hole for hanging the reacher. A magnet at the end picks up small steel items. A metal post may be used as a dressing aid. Weighs only 7 oz. (198 gm). Overall length is 27" (69 cm).
OMNIGRIP™ REACHERS
U.S. Patent 298,206
Four position jaw adjustment
Four position jaw rotation
Wrist support
Lockable jaws
The most versatile reaching aids with many exclusive features. The trigger requires a bare minimum of hand strength to operate, and a unique locking mechanism allows a continuous hold on an item without applying pressure on the trigger. The jaw is easily adjusted to any of four up/down positions and any of four axial positions to achieve the best angle for use, whether seated, standing, or lying down. A magnet on the jaw picks up needles and nails. A removable wrist support adds balance and control for those who need it. Made of lightweight plastic and aluminum.
VEE-ZEE C5 REACHER
TOGGLE-OPERATED
Does not require finger function to operate. Does not have the conventional trigger but operates from a toggle lever at the top. Persons with severe arthritis, spinal injuries, wrist deformities or minimally functional trunk musculature will find this reacher helpful. The arm support relieves virtually all stress on the radial side of the wrist while the wrist support prevents non-functional wrist extension. In the case of wrist flexion, the support would be placed on the outside. A thumb support on the inside of the palm grip helps to control ulnar deflection of the wrist. The supports may be formed to individual requirements, or moved from one side to the other to accommodate left and right hand. Overall length is 31 1/2" (80 cm) while a hinge brings stored length to 20". A hook-and-loop fastener button latches the halves in folded position. Operating toggle has a Tee handle to close the jaws. A cord with loop and plastic ball end can be used to pull the toggle. Weighs only 11.5 oz. (326 gm), shipping weight is 1 lb., 6 oz. (.63 kg).
CARD PLAYERŽ CARD HOLDER

This attractive, fan shapped, playing card holder is perfect for anyone with limited finger strength and dexterity. It holds cards snugly and provides a clear view of cards. It can be held comfortably by a weakened or arthritic hand and can stand by itself on two non-skid legs. The holder is also great for phone messages, recipes, shopping lists, coupons, receipts, reminders, etc. Molded of durable rigid plastic the card holder measures 8" wide x 4" high (20x10cm).
CANE VALET

Holds cane to table edge
The Cane Valet is a small plastic fitting that mounts on a cane to hold it on a table edge when not in use. It snaps onto the cane and slides up or down to contact the top or bottom of the table. They are supplied in bags of two and can be used in pairs to contact both the bottom and top of a table. A small rubber band is placed around the end hooks to maintain a better grip on the cane shaft.
PEDIATRIC WALKER CADDY

Carrys it All

Enables children to carry schoolbooks, homework, toys, games, etc. without assistance from others. All of the essentials for school and play can be easily managed and transported. It's even got a convenient circular cup holder in the bottom to hold a bottle, cup or can. The walker caddy hangs over the horizontal crossbar of the walker and has 2 aluminum strips that wrap around the walker legs to prevent swinging. It can also be used on pediatric beds and cribs to hold bedside items that are often needed.
e-mail : buy@bestmobility.com
Please Note: The discount prices you see in our catalog are only available through our internet division and are for new factory drop-shipped units paid by credit card or check. Due to operating expenses (salesman salary/commission, warehouse space, rent, and advertising overhead), prices at our retail locations have an additional surcharge.